I had a busy week last week.  It was my birthday AND my one year blog-a-versary!  I can't believe my blog is a year old already.  Gosh – life just zooms by doesn't it.
The Smith's got a lot going on around here outside and inside.  Some big projects and some small, but all make a difference.  I can get excited about the smallest changes.  Today's post is about one of my small projects that has made me so happy!  This is a super easy and inexpensive way to add some fun to your countertops.
Aren't they great?  I bought the glass jars at Target, but you can get them at Walmart and other retails shops as well.  Some come with glass tops and others with metals tops like mine.  I liked the contrast of the tops on these jars and also they suction to the jar which makes them perfect for flour and sugar.  Here is how you turn a plain glass jar into a cute countertop statement:
I purchased these rub-on labels from Etsy.com.  You could try to make these yourself, but let's be honest – I was too lazy and too inpatient to figure that all out.  Once I saw these and that I could get them in Tangerine – I was sold!  They were $3.34 each and that is 100% worth it to not have to figure out size, color and printing.
My daughter helped put the words on for me.  Super super simple.  Just take the backing off the label, position on the jar and rub on with a credit card.
Peel back slowly, in case some of the wording is stuck to the paper.  Just re-rub and Ta-Da – gorgeous new canisters!  Love it!
You can choose any wording or color you would like depending on what you want to put on your countertops.  We are addicted to our Keurig coffee maker so I knew I had to have a canister for all our "pods".  You could also fill your coffee canister with coffee beans.    If you click HERE, it will take you directly to the vendor I used for my words.  I couldn't be more pleased.
I really love how it fills up all my empty space and it is usuable!  Little things can make such a huge impact!
Hope your life is more tangerine heaven than havoc!
Missi
You can also see me at: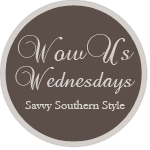 Read more at http://diyshowoff.com/2013/03/10/that-diy-party-7/#YYLIchLV0WecgHi7.99